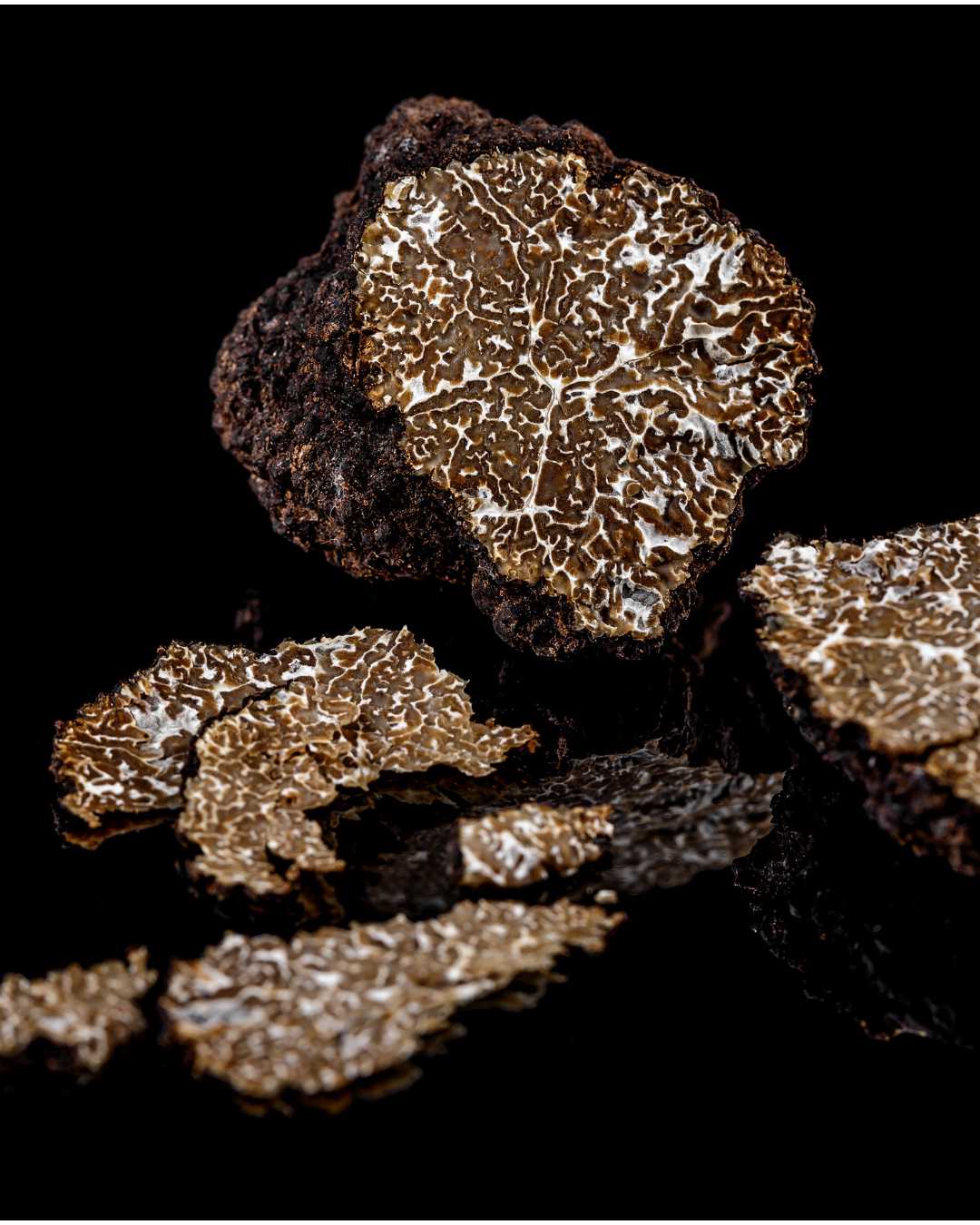 Truffle for all budgets
The month of November always brings the aroma of fresh truffles. During this time, the truffle that arrives at Mantequerías Bravo has been collected the day before in Italy, and is sent by plane so that it does not lose the slightest of its connotations along the way. When we open a box with Tuber Magnatum Pico (White Truffle) or Tuber Melanosporum (Black Winter Truffle), the entire store -and it is not a small one- is filled with an unmistakable smell of mushrooms, countryside, freshness and ancient gastronomy, in modern version. Not everyone who walks in at that time recognizes the scent of such a fresh truffle, but everyone lucky enough to come in when we open those treasure chests on a weekly basis is surprised to catch it.
The products made with truffles that we offer in our store are undoubtedly some of the best sellers in Bravo, but this has not always been the case despite its long love affair with gastronomy from around the world. A contest in Ancient Egypt rewarded a recipe that combined pheasants with extremely finely sliced ​​truffles; in the great parties of the Roman Empire there was never a lack of dishes with "tartuffe", but the Middle Ages, as with almost everything, took away the consumption of this fungus by associating it with impurity. It has been centuries since it returned to the best tables of the great palaces, but it has only been a few decades in which we can find at least the products made with quality truffles, suitable for all types of recipes and, above all, for all types of pockets.

Luckily, for those of us who love to cook and for those of us who love to eat truffles, the weight of the fresh truffle determines its price. The smaller it is, the cheaper it is proportionally, so almost anyone can afford scrambled eggs with grated black truffle. Naturally, the big ones are not only more attractive but also more aromatic and more difficult to find, so those who want them larger have no choice but to pay more.
To compensate for the budget adjustments between our stoves, there are tricks that can fill your kitchen with "profumo dell bosco italiano": an olive oil with truffle (not flavored, be careful!); a tartufata sauce to give your pasta, stew or mayonnaise an exceptional flavor of your favorite mushroom; a cream of pecorino with truffle added to a cheese soufflé or honey with truffle (but those in which you can actually see the bit of truffle in the honey) on some tempura or grilled vegetables, on soft cheese or on pineapple roast that serves as an accompaniment to a roast, for example. Truffle powder added to a classic mayonnaise to dress a baked hake gratin is another option.
The catalog of products made with truffles is so extensive that on our website you can find a department just for them. From chocolate cream with truffle to truffled turkey cold cuts, from pesto with truffle to spicy tartufata sauce. If you like to invent in the kitchen, you are facing one of the most versatile products in gastronomy.
---