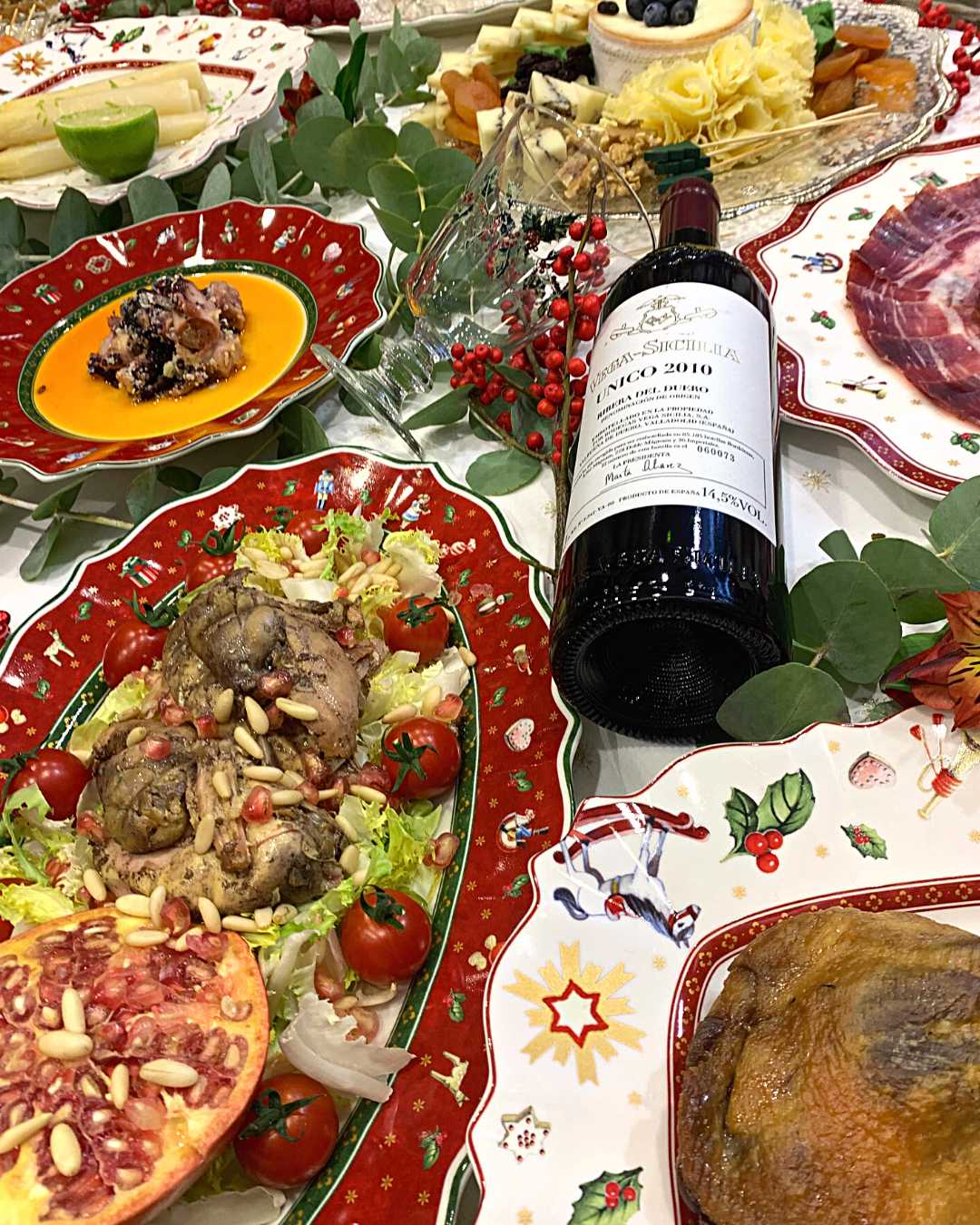 Christmas dinner. Total success with the right effort.
The countdown to Christmas dinners at home begins and this year ours invite you to work less. El Mundo has invited us to carry out a fun and practical project: a lunch or dinner that will leave memories, but with as little effort as possible. Plating with ingenuity always allows any product to look better, but for the palate to reward the time you have dedicated to your special menu, the raw material must be the best. That is why we have chosen some of our favorite products to design a successful CHRISTMAS MENU that requires little time. Happy Christmas Eve dinner!
Elena Bravo, the third generation behind the counter of one of Madrid's favorite foodie shops, Mantequerías Bravo, gives us the keys to achieving a luxurious, homemade menu, without going into the kitchen. Open the can
This Christmas dinner, for eight people, costs 280 euros.
There are businesses that, like wine, get better over the years and become true benchmarks in their field. Elena Bravo knows it well, the third generation, and the first woman, in charge of one of Madrid's favorite butter shops, the almost hundred-year-old establishment in the Barrio de Salamanca that her grandfather, Cruz Bravo, started 90 years ago, when he disembarked in the capital from a small town in the province of Segovia where he had been a pastor.
«When he arrived in Madrid, he began working in grocery stores, without further ado, until he saved enough to set up his own, this one. The few goods that were in the city then were all here, in those years we were already selling Pol Roger and Moët & Chandon champagne», recalls Elena.
A lot has happened since then and his small family shop, which retains the same mahogany façade with which it opened in 1931, is now a gourmet institution that is part of the capital's gastronomic history and bills four million euros a year. An exclusive place where luxury tourism and many of our country's politicians, athletes, nobles and big businessmen buy. "I can't give you names," says Elena, always discreet with her clientele, when we ask her who is the best customer and what good buyers are like. «For me, a great client is the one who enters the store and is advised, regardless of what they are going to spend. Everything here is of excellent quality , it's not a question of price, we have things from five euros. And what we like is talking to people, recommending products that we have tried and telling them how we prepare them".
And although she insists that there is no profession that conditions spending - "It's about knowing how to appreciate it," he points out -, she confesses that athletes let themselves be advised and are good collectors of great wines, "but most do it for investment, not to throw a big party".
For that, to invest in a good wine, their store is a gold mine, because if they boast of anything it is their winery, with more than 4,000 references of the best wines. Spanish and "a lot of Italian and French, which at the moment is sold a lot, its consumption has risen a lot", she says. And what advantage does it have over a Spanish one being very expensive ?, we asked her. "There is everything, it is about knowing how to choose and that is not easy, it is very complicated," she tells us, alerting us to the danger of some online purchases. "Normally, a national wine that costs 35 euros is infinitely better than a French one of the same price, but if you know how to search, you will find things that are worth it."
And speaking of French wine, is champagne better than cava? "Yeah. For a cava to equal it, it also has to have almost the same price and if you drink it from the beginning of the meal it doesn't feel bad, the other way around».
Elena Bravo in front of the window of her shop.
This shop is known for having historic vintages -bottles from the 1930s that start at 200 euros-, a lot of Vega Sicilia and for being specialists in large formats, with editions of up to 27 liters that are regularly released for events and private collections. At the moment one of them is the most expensive in the store, a six-liter 'Unique' magnum from Vega Sicilia of which only 11 bottles are made. They only have one left, its price: 12,000 euros. "And it is sold," says Elena.
Another way to buy and another to sell. «Everything has changed a lot since my grandfather's time; Before, the neighbors came to refill their oil bottle in bulk, now they come looking for the most beautiful bottle of oil and that best fits in their kitchen, "he says.
From that time he remembers seeing his grandfather roasting coffee first thing in the morning, "then he took it out to the sidewalk to finish drying, as all the Mantequerías did then, and the entire Salamanca district smelled of coffee in the morning" . Now it is not put on the street like in the 40s, but they continue to roast it in the store like then, and the smell is still unmistakable.
The evolution towards a gourmet business came "almost naturally", explains Elena, who has been in the store since she was 14 years old, when she helped her father at Christmas . «I am always here, I love it. The public is great, they like to come in and share with you what a product has paired with or how they have presented a dish, and I really enjoy that".
So much so that now he has jumped on the bandwagon of social networks, through which the future passes. "We do super-fun live shows in which I give a recipe with our products," he explains, "they are gourmet experiences and classes." Because being a gourmand is also a matter of practice. «The palate learns a lot, but you have to train it. We have spent our whole lives trying good things, we have had that privilege. But the good always likes. Everything that comes out of here is going to be of quality, tasty, well prepared and a result as soon as you put a few touches of nothing on it, with a homemade air".
PRODUCTS NOT TO COOK, BUT AS MADE AT HOME
There are many ways to succeed with Christmas dinner, although the most coveted is a luxury home menu that does not involve hours in the kitchen. And this is where Elena has a lot to say: in her store they offer an à la carte service, «from a dinner for two to one for 35. The objective is to facilitate work, with trays prepared to do nothing. And give ideas. Opening a jar and a bag of lettuce is enough to make a resultant dish. We get that from our experience and from our products, which are very top", he explains. It is the formula of your table year after year. "They always ask me the recipe, it seems that I have cooked it," she jokes. And how is it done by opening cans? With foodie tricks.
The first to choose quality ingredients; then, plate up so that it looks like it was made at home. «We do it in the customer's dishes, which he brings us to the store before. Then we serve it at home and you just have to put it on the table", says Elena, who reveals another of the keys to success: introducing ideas into the dishes to make them homemade. For example? "Serve the pâté on a gelatin cut into cubes that simulate ice, but one that we will have flavored with a little gin, red fruits or peppercorns that give color," he answers.
As main, an easy and cheap duck confit. «The trick is to accompany it with a truffle parmentiere, which you achieve by adding a drizzle of truffle oil to a simple mashed potato. The truffle always triumphs," he says.
A Christmas proposal without going into the kitchen.
A FOODIE CHRISTMAS DINNER WITHOUT WEARING AN APRON
Elena Bravo has prepared a menu for a great Christmas meals that follows the four premises: easy, fast, luxurious and homemade. The base is top quality products, many of them canned. This dinner, for eight people, costs 280 euros, without wine.
The salmon, with a knife. No matter how good it is, poorly served salmon loses its grace. It must be cut very thin and with a knife, like ham. "Machine cutting totally changes the flavor."
Asparagus, the chosen ones. Here you don't have to risk it, because the difference between a good one and any other is abysmal. "Always from Navarra, although not all the orchards are the same there."
An octopus... without 'feira'. The 'gourmand' touch forgets the paprika. Instead, Elena adds an exotic point with a Castillo de Canena oil with Harissa sauce, a Moroccan-flavored pairing.
Partridge salad Light and sophisticated, it is made with partridge from the Orellana restaurant, a classic with a secret recipe. It is accompanied by pomegranate and roasted pine nuts in the oven, the crunchy touch.
Duck confit, easy, easy. One of its star dishes and the one that sells the most at Christmas. How to make it different? With an original potato and truffle parmentier.
Delicate flavors. On the outside a very light puff pastry; inside, a delicious creamy cheese. These little balls are an explosion of flavor and a perfect appetizer. Impossible to eat just one.
Italian dessert. Not all panettone are the same and the difference is huge. This one, fluffy and delicate, with cream and almond topping, is quite a top to end dinner.
The pate, very cold. It should always melt in the mouth, never in the bread or on the plate. It must be served over cold gelatin. "It's pretty and it does amazingly well to lighten it up."
The cheese with flowers and color. A cake, gouda with pesto; pecorino with truffle, manchego with boletus, Dehesa de los Llanos, named the best Spanish cheese in the world, and Tête de Moine, the Swiss in flower.
A ham? No, the ham. The king of the table, a plate of Cinco Jotas acorn-fed Iberian ham always cooked with a knife. "If you don't cut it right, you kill it," says Elena. Her cutters are professionals.
Some special toasts. To accompany the pâté, for the salmon, the ham... With seeds, with dried fruits or integrate them, these crunchy rolls are a basic in a good table.
AND PAIR IT ALL WITH...
Elena Bravo offers three pairing options, two with a very affordable price (including a French champagne) and another with an exclusive option.
Champagne Bouché Pere et Fils (€26.95). "Champagne pairs with any menu and today you can find French champagne at reasonable prices that are worth it on labels from small producers. One is from this maison, which only makes grapes from its vineyards."
Marqués de Riscal XR (€21.90). "A Rioja classic that is always perfect for any given day and for big occasions. Its label is elegant but modern, and it helps to dress a table that should be showy and colorful on those dates. It is ideal for legumes, poultry, chops, sweetbreads, stews, roasts or grilled meats. Extremely versatile".
Vega Sicilia Único 2010 (€345). Like its name, "a unique winery. This great reserve from Vega Sicilia is a prize for the palate. Subtle but tasty, intense but elegant. We choose it for its aging, for at least 10 years between wood and bottle. It is a celebration in itself, and perfect from appetizer to dessert".
Enjoy Christmas Dinner!
---